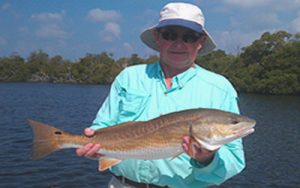 There's nothing quite like a tailing redfish making its way across a flat. Usually seen working in groups of several fish, they're aggressive in chasing bait across the flats and getting them balled up for big topwater strikes. A lot of my fly fishing charters like to sight fish for reds on oyster beds and sand bars that run alongside deep drop offs. Redfish will school up and tail in 3 or 4 inches of water, making them a difficult target without an extremely shallow drafting boat. They also consistently run with snook and will often shadow schooling mullet. Many guides and anglers agree that redfish are the best tasting game fish. I will gladly fillet any redfish you catch as long as they're in the legal 18" to 27" Florida harvesting slot. For those planning to make this great fighting fish the main course for dinner, I've listed some great recipes below. Their skin can be left on unlike snook which are known as soapfish by some as their skin can give a soapy flavor to the fish when cooked. These are my favorite ways to cook both.
Book Your Charter early for the best times and days for tides during the upcoming months!

941-416-7905
5 Best Tasting Redfish & Snook Recipes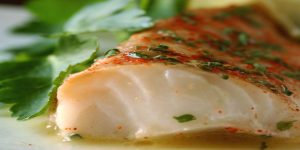 #1 Bull Bay Paprika Redfish
Ingredients
4 potatoes
1 tbsp salt
4 fish fillets (snook, redfish or...)
4 cloves/tsp garlic
5 tbsp olive oil
1⁄2 tbsp sweet paprika
1 tbsp parsley fresh/chopped
Instructions
Peel, wash and slice/chop potatoes.
Bring a pot of lightly salted water to a boil.
Cook potatoes in boiling water for 12 to 15 min.
Add fillets to the pot with the potatoes and simmer for 7 to 8 minutes or until both are tender.
Drain/keep 1 cup of the boiled water
Place potatoes on a plate then gently lay fillets on the potatoes.
Peel and slice cloves of garlic or buy the minced garlic.
Heat 5 tbsp of olive oil in a skillet. When warm add the garlic and cook over low heat for 2 to 3 minutes or until golden.
Remove from heat and set skillet aside.
Add the cup of boiled water, 1/2 tbsp of paprika and chopped parsley to the skillet and stir on low heat to make a sauce (a teaspoon of cornstarch can be added to thicken).
Spread the paprika sauce over the plate of potatoes and fish.
#2 Turtle Bay Tomato Ginger
Ingredients
1 tbsp olive oil
1 fine diced onion
1.5 tsp grated fresh ginger
1.75 cups canned crushed tomatoes
.75 tsp salt
2 Lbs fillets
.25 tsp black or white pepper
.25 cup fine chopped cilantro
Instructions
Heat the oil over moderately low heat in a deep frying pan.
Add the onion and saute until soft (not brown) for a few min.
Stir in the ginger and continue stirring for a couple min.
Add the tomatoes and salt then bring to a light simmer. Reduce the heat to low and cover for 10 min.
Add the fillets and black pepper to the mix and re-cover for about 15 min (depending on the fillet thickness) until fish is cooked.
Remove the fillets and place on plate to serve.
Mix the cilantro with the sauce and pour over the plated fish.
#3 Boca Grande Pass a l'orange
Ingredients
4 potatoes
3 Florida Oranges
1 tbsp olive oil
1 medium onion
4 fish fillets
1/4 tsp salt
1/4 tsp white pepper
Instructions
Peel and chop 2 oranges into 1/2 pieces and add to cup.
Squeeze the juice from 1 orange into cup of pieces.
Heat the olive oil in a deep pan over medium heat.
Add the onion and saute until tender then transfer to a plate.
Add fish to pan and sprinkle with salt and pepper.
Cook about 4 min per side until golden brown (thicker fillets will take longer)
Transfer cooked fish to a plate.
Return the onions to the pan.
 Add the OJ pieces and juice and increase the heat bringing mixture to a boil.
Reduce heat and simmer for 3 min.
Pour the OJ mixture over the plated fillets and serve.
#4 Creamy Roasted Pepper Redfish
Ingredients
12 oz. jar whole roasted red peppers, drained and chopped
2 tbsp minced garlic or half a dozen chopped clove pieces
2 tbsp fresh basil chopped fine
.5 onion chopped fine
3 tbsp olive oil
1.25 cup light cream
.25 cup grated Parmigiano-Reggiano cheese
1 tbsp salt
1 tbsp pepper
2 lbs redfish or snook fillets
Instructions
Add peppers, garlic, basil and olive oil to pan and cook on medium heat for 10 min.
Transfer the mixture to a food processor and puree (optional).
Return the mixture to the pan and simmer for 2 min. 
Pour in cream, add cheese, salt and pepper.
Simmer for 5 min. while stirring occasionally. 
Pour half of sauce mixture into a baking dish.
Add fish fillets to dish and pour remaining sauce over them.
Bake, uncovered at 350F for 30-40 min. until the fish flakes apart and is fully cooked.
Pull, plate and serve.
#5 Old Lemon Bay Livation
Ingredients
2 Lbs fish fillets
4 tsp minced garlic
3 tbsp olive oil
.5 stick butter
.5 lemon
2 tbsp Old Bay seasoning
1 tbsp salt
1 bag rice
Instructions
Drizzle olive oil into pan and bring to medium heat.
Add fillets and cook for 4 min per side.
Add butter and garlic to pan then sprinkle the fish with Old Bay and salt.
Simmer for 3 min then squeeze lemon juice into pan over the fish.
Turn the fish over, cover and cook for 2 min. 
Add fillets to a bed of cooked rice. (microwave minute rice is fast and easy)
Pour the remaining lemon butter garlic mixture from the pan over them.
Serve