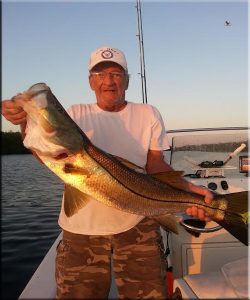 The inshore waters around Boca Grande Pass are world famous for sportfishing. Snook are a lot fun to catch because they strike like a freight train, fight like ali and jump out of the water like tarpon. A challenge for even pro anglers, the common snook is extremely weary and elusive. Hiring a charter captain to guide you through the shallow flats and backcountry water they inhabit is going to be vital to catching fish. Navigating through these passes and bays is very difficult. Naturally a skittish species, snook will leave the area if you don't approach with proper stealth and cast your bait in just the right spot.
Book Your Charter early for the best times and days for tides during the upcoming months!

941-416-7905
10 Best Boca Grande Snook Fishing Spots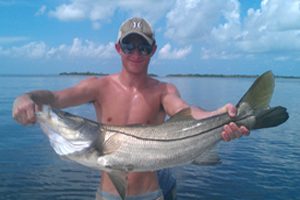 #1 Boca Grande Pass
The pass is famous for providing the best tarpon fishing in the world and the inshore sportfishing around this deep pass is known for trophy snook. The old phosphate docks and pilings provide a lot of underwater structure near the beach for baitfish and the predators that feed on them. From Lemon Bay to the north, to Pine Island Sound to the south, the entire area around the Boca Grande Pass is a haven for snooking anglers.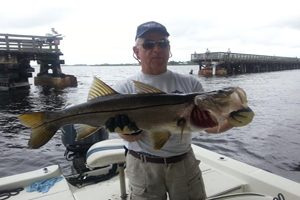 #2 Fishing Piers
There are several fishing piers and hundreds of docks that hold big fish. During the winter season they tend to be closer to these structures in shallower surrounding waters. While you can have limited success catching a snook from a pier, landing a large fish, especially one that is in the 28-33 inch harvesting slot or larger can be next to impossible unless you're on a boat.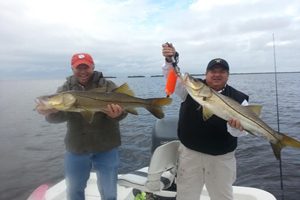 #3 Charlotte Harbor
From Punta Gorda to the north where the Peace River and the Myakka River meet, and separating the beach and shallows of the West Wall and Burnt Store on their prospective sides, Charlotte Harbor connects with Gasparilla Sound before exiting into the Gulf of Mexico via Boca Grande Pass. Between the northern tips of Cayo Costa and Pine Island you'll find Jug Creek Shoals which is a hot spot for charter captains and guides to chum up bait to cast net before dawn for the day's trip. This inherently starts the food chain resulting in several species of fish inhabiting the grass flats surrounding the shoals. Snook will often school up with redfish shadowing baitfish balls and large groups of mullet. Some anglers and even charter captains will pass up a large school of mullet not realizing that a whitebait tossed in the middle will often get slammed by a snook or other game fish trolling in their shadow.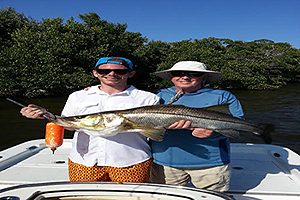 #4 Beach & Flats
Being Florida there are beaches and flats across the entire region. Snook tend to run along the beach on their way to passes to spawn in May, especially during the full moon. Progressing into late spring until early fall their movement is greatly affected by the moon phases. There are some good fish running along the beaches where people are swimming near by, but the real linesiders are found chasing bait off the remote flats and beaches. Summer isn't harvest season, but it is trophy snook season from beginning to end.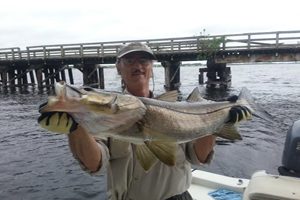 #5 Gasparilla Pass
During the full moon in May this can be a hot spot for heavy weight females staging up on their way out to the gulf to spawn. They're also feeding in preparation for the journey and breeding season so this can be a great place for landing a variety of snook species. Some captains and guides couldn't name all five which are; common, small-scale fat, large-scale fat, swordspine, and tarpon snook. It is possible to catch a slam consisting entirely of snook species while fishing the passes around Gasparilla.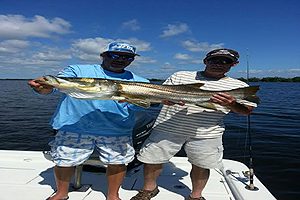 #6 Gasparilla Sound
Placida Harbor connects with Gasparilla Sound right at the Boca Grande Causeway and bridge. The pass to the north and south of the island offer stacked up snook at times, but the prime area for snook anglers are the channels and bay entrances that dot the shoreline. Moving around and covering a broad area can pay dividends to those paying attention and know what to look for. Many bodies of water meet here and snook tend to congregate and migrate through the sound during different seasons. There are indications like diving birds and other tell tale signs that there might be bait in the area and these are the types of activities a good guide will pay close attention to in order to lead you to a frenzied ambushing snook bite.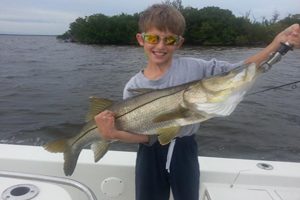 #7 Bull Bay
The smaller of the two most renowned fishing bays in the state of florida, certainly among the serious snook fishermen and guides. Surrounded and filled with very shallow waters, this can be a challenging bay to navigate for those inexperienced. There are several holes and locations where the snook like to lay up and let the current bring them sardines and unsuspecting pinfish to ambush. Knowing exactly where they are, approaching with minimal turbulence and casting your bait right in front of their nose is often required here. Well worth the effort with a rewarding scream of the reel.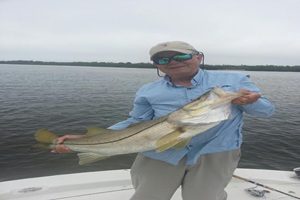 #8 Turtle Bay
This is the largest bay in the area and is good for snook, redfish and trout. Like it's little brother Bull Bay, Turtle Bay is a hot spot for fishing if you have a shallow drafting boat and a captain that knows where the water goes from 2' to 8" or less. There are many deep holes and mangroves to pull a giant out of if you can get your bait right on target. There are also sand bars, beaches and flats so there's a variety of fishing techniques employed here.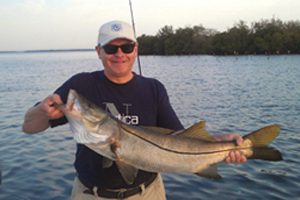 #9 Lemon Bay
Located north of Boca Grande, Lemon Bay offers a couple dozen miles of mangrove and beach shoreline leading out to Stump Pass and Don Pedro Island. Many captains consider this the northernmost territory for hooking into trophy sized snook from inshore shallow flats and mangroves. Biologically, snook can't survive much further north of Tampa Florida and the sudden winter cold snaps are much more significant beyond this point. Geographically and topographically, the area surrounding the southern west coast of Florida is the perfect setting for snook to prosper and grow to record size.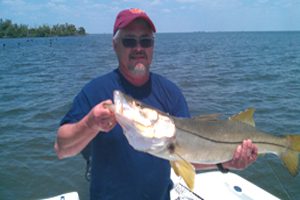 #10 Pine Island Sound
This is the southernmost territory for most charter fishing captains in the area. Separating the shores and beaches of Captiva Island and Pine Island, this wide bay wraps around near the southern tip of sanibel island to meet up with the Caloosahatchee river. Possessing several deep water holes adjacent to several long running sand bars and flats, this can be a great fishing destination during the summer season when the water tempuatures rise.