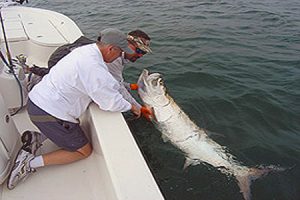 I've been a full time Boca Grande Pass tarpon fishing guide and leading Florida charter captain for more than 25 years. Tarpon gather in the pass during the summer by the thousands. An old tournament (now illegal) technique was to actually drop a hook down with no bait and literally snag the tarpon stacked up under the boat as seen on a fish finder. There are incredible amounts of fish here but they're very challenging to catch and extremely elusive. Enticing a bite from one of these sleeping giants requires a lot of skill, a bit of patients and always the right bait. Reasons many charter captains head back to the dock empty handed every day. I use live bait and know the precise technique required to drift through the pass, putting clients on their Silver King of a lifetime. I have a passion for chartering and putting anglers on the biggest fish they've ever had at the end of their line.
When I'm guiding snook fishing charters inshore from the pass we will often hook up on a tarpon. They're typically a juvenile coming from the brackish and freshwater creeks waiting to ambush some cruising bait fish. The deeper holes often hold a variety of fish species which can make for an exciting trip. Mullet and crab are the 125 lb tarpons favorite bait, so when we're fishing the flats using whitebait (sardines) a 25 lb tarpon is no surprise to see strike. This size tarpon can be more fun to catch depending on your perspective for the simple fact that they weigh 100 lbs less and the acrobatics are more impressive. These fish jump out of the water in spectacular fashion and bowing to the king is one of many techniques I teach my anglers. They're experts at throwing the hook, but one of the most exciting game fish in the world to catch.
Book Your Charter early for the best times and days for tides during the upcoming months!

941-416-7905